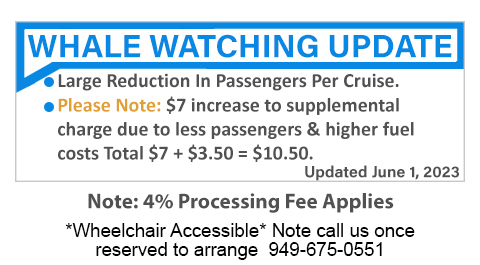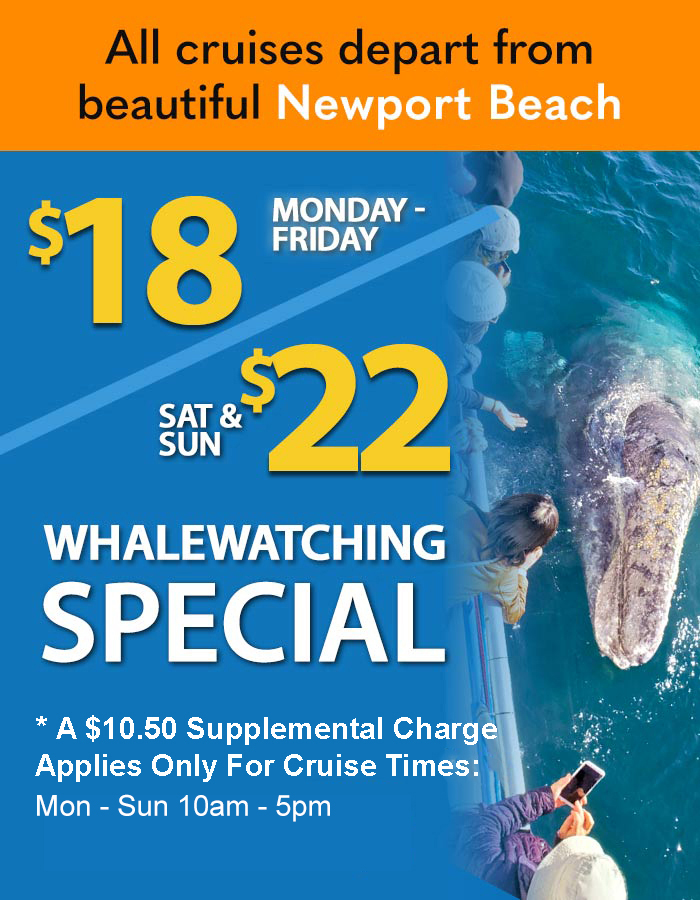 Whale Watching Laguna Beach $18 Special
Cruises Daily Year Round- View Whales & Dolphin Off Laguna Beach
Laguna Beach is known for its beautiful coastline, beach front activities, and a rich tradition for the arts. Laguna Beach also has a thriving marine ecosystem off of its coastline that supports all types of life including many species of whales and dolphin. Davey's Locker offers whale watching cruises daily to go whale watching off Laguna Beach year round. >> Check out the Whale Watching Cruise Times & Pricing Info.
Whale Watching Seasons For Laguna Beach
Summer and Fall months has giant blue whales, finback whales, and minke whales migrate into coastal waters off Laguna Beach. They migrate into Laguna Beach's coastal waters to feed on huge quantities of krill. One of the top worldwide blue whale watching destinations is Laguna Beach. Laguna Beach not only offers a huge abundance of blue whales to view, but also the ideal conditions to fully enjoy appreciate the largest of all whales, the blue whale. Laguna Beach is sheltered by the 32 mile long island named Catalina Island and as a result Laguna Beach enjoys very calm almost lake like conditions. There are few places in the world that offer this perfect combination. Along with blue whales, finback whales, and minke whales are also viewed. Huge pods of common dolphin, Risso dolphin, and Bottlenose dolphin also swim wit in the Laguna Beach waters.
Things to do after whale watching in Laguna Beach:
Crystal Cove State Park
Take a scenic, 12 mile drive down Pacific Coast Highwayand you'll find a hidden gem, Crystal Cove State Park. This secluded beach stretches some 3.5 miles and is an official "underwater park" and Marine Conservation Area. Tide pools and coves delight visitors to the beach year-round, though some of the best tide-pooling can be found in the winter when the lower tides provide excellent viewing of intertidal animals. Our non-profit partners, Crystal Cove Alliance, help to maintain and preserve Crystal Cove Historic District, which is a beautiful example of Southern California beach architecture, and still retains the scale and ambiance of a 1930's beach resort. Carved into the park's ridges and canyons are more than 23 miles of back country mountain-biking, horseback-riding and hiking trails. Because of these high bluff trails, hiking here makes for an ideal lookout spot for traveling whales and dolphins. Just make sure to bring your binoculars!
[insta-gallery id="2″]
Popular Beaches
Moro Beach is the southern beach in Crystal Cove State Park located between Laguna Beach and the Corona Del Mar area of Newport Beach. For many years this was the site of the El Morro Trailer Park, but in 2005, the manufactured homes and trailer homes were removed to build a campground and day-use parking area. This opened the space back up to native plants and wildlife, creating an ideal coastal locationto hike, bike, and camp.
Crescent Bay Beach is a large and popular beach in northern Laguna Beach. Whale watching is a popular activity from the bluffs surrounding the beach, which give an expansive view of the ocean. Two excellent scuba diving and snorkeling areas called Seal Rock and Dead Man's Reef are both located offshore from Crescent Bay Beach, and tide pools are exposed at both ends of the cove during low tides.
Seal Rock is not a popular beach for humans, but it definitely suits its purpose to both Sea Lions and Harbor Seals that live in Laguna Beach. Just off the coast of Crescent Bay Beach a large rock jets up from the water's surface, creating a perfect hauling out spot for California Sea Lions and Harbor Seals to crawl up on and sunbathe. A variety of marine birds also frequent this marine life hot spot.
Picnic Beach is the northern beach of Heisler Park in Laguna Beach. The park above the beach offers grassy areas to spread out on and many picnic tables as the name suggests. Scuba diving is also popular at Picnic Beach and the adjacent cove to the north called Diver's Cove. Tide pooling is extremely popular here when tide pools are exposed at low tide at the south end below the Laguna Beach Lawn Bowling Club.
Treasure Island Beach is south of the Montage Resort in Laguna Beach. This sandy beach is actually the north end of the same large cove that begins at Aliso Beach Park. Treasure Island Beach is a safer place to swim because it has some protection from huge rocks just offshore, creating a perfect location for families to spend the afternoon.
Thousand Steps Beach is one of the largest beaches in South Laguna Beach. It's a wide sandy beach with volleyball courts, restrooms, and tide pools and caves to discover. There is a large cave at the south end of Thousand Steps Beach that you can enter when the tide is out and the entrance is exposed. You can walk all the way through this cave (which is actually a tunnel) to a tiny rocky cove on the other side.
Hiking
There are many neat hiking trails scattered throughout Laguna Beach. Top of the World is a favorite for the locals and is part of a network of trails that has many scenic views along the way. At the entrance of Laguna Coast Wilderness Park, easy level hiking trails, there is the Nix Nature Center. The nature center has a 3D diorama of Laguna Beach hiking spots; this is a cool birds-eye view of the land. Keep your eyes out for whale spouts along the way, sometimes you can get lucky and whale watch in Laguna from these bluffs.
Pacific Marine Mammal Center
Often on whale watching cruises we spot tagged California Sea Lions. These orange tags come from the Pacific Marine Mammal Center located in Laguna Beach. You can visit the center and see all their animals up close, usually including sea lions, harbor seals, elephant seals and fur seals.
Monthly Laguna Beach Art Walk
Established in 1998, the first Thursday's Art Walk is a festive, cultural evening on the first Thursday of every month. The event is free and runs from 6pm-9pm. More than 40 galleries participate, offering artist receptions, demonstrations, refreshments and live music. The Laguna Art Museum is also free from 5pm-9pm.
Laguna Beach Sawdust Festival
If you are a fan of the arts, Laguna Beach Sawdust Festival should be on your to-visit list. During the summer from July through the end of August Laguna Beach hosts the Pageant of the Masters and a local art show. So, after enjoying a day on the water with Humpback whales, Blue Whales and hundreds of dolphin, at night you can walk through the art festival in downtown Laguna. Hiking, snorkeling and swimming are all available in secluded coves in Laguna offer the whole family something to do in Southern California.
Wyland Art Gallery
Another fascinating artsy part of Laguna is the Wyland Gallery. Wyland is a world renowned painter, sculptor, and photographer of marine life and environmental conservation. His gallery is right in the heart of Laguna Beach and his whale art can be found on buildings around the city. His inspiration comes from the wildlife right off the coast of Laguna. You can visit his gallery and marvel at his artwork.
---
Dining
The Cliff Restaurant has an amazing 180 degree cliff-side view of the ocean, offering breakfast, lunch, dinner and late night. This dining experience is great for families or couples. Cliff Restaurant offers seafood, American, and a full bar.
577 S Coast Hwy, Laguna Beach, CA 92651
The Deck at Pacific Edge Hotel offers breakfast, lunch and dinner on an outdoor patio with a view of the ocean. Good for every group that enjoys seafood and American dining.
Sleepy Hollow Ln, 627 Laguna Beach, Laguna Beach, CA 92651
Hotels
Sonesta Select Laguna Hills – Irvine Spectrum hotel Enjoy all our pet friendly hotel has to offer including complimentary parking, a well equipped fitness center & seasonal outdoor pool.
23175 Avenida de la Carlota, Laguna Hills 92653
Hotel Laguna was originally a wooden structure built in 1888, but was reconstructed in 1930's, and still retains its current Mission Revival style. The hotel has an attractive rose garden with a gazebo. Walk through the lobby and view historical photographs, or enjoy a drink at the Ocean View Bar & Grill.
425 S Coast Hwy, Laguna Beach, CA 92651
Montage Laguna Beach is a spa and hotel right off the beach with all the amenities you can imagine. They are great for families and dogs on vacation year round! With three restaurants, gym services, and a pool this resort is beyond expectations.
577 S Coast Hwy, Laguna Beach, CA 92651-2405
Surf and Sand Resort, beachfront spa and hotel is great for people looking for a worry free experience.
577 S Coast Hwy, Laguna Beach, CA 92651-2405
---
Best Times of the Year for Whale Watching in Laguna Beach:
There is really no better time of year for whale watching, as whales can be spotted throughout the year off Laguna Beach.
Year-round Humpback Whales, Finback Whales, Minke Whales and a variety of dolphin are regularly spotted.
From January through May we actively spot California Gray Whales off the Laguna Beach coastline. Gray Whales make an extensive migration during the winter and spring from the Chukchi and Bering Sea's in Alaska down to three wintering lagoons in Baja Mexico. Around 20,000 Grays are moving up and down the coast during this time of year, which makes it a great time for whale watching. The juveniles are often found playing in the soft sands off the shores of Newport Beach and Laguna Beach.
The Blue Whale season starts in early summer. June through September we see one of the largest animals that have ever lived on the planet, feeding on krill. These magnificent creatures weigh in at nearly 400,000lbs and stretch to lengths of close to 100ft long!
What's the best time of day?
A common question we get from eager whale watchers is, "Which tour is best for whale sightings?" Or "Which tour has the best chances to see something?"
The best way to answer this question is to take into consideration where you are coming from, weather conditions that day, and sunrise/sunset times. The short answer is that there are no better times during the day for whale watching. The mornings are generally calmer on the water, so if you are prone to seasickness, a morning trip would be best. My favorite cruise times for visitors coming whale watching from Laguna Beach would be the noon or 1pm cruise time and the 3:30pm departure time, whales are often located on the earlier trips, meaning your cruise can spend more time viewing the whales and less time trying to locate them!
---
Baleen Whales off Laguna Beach:
Gray Whales (Eschrichtiusrobustus)
The gray whale is a baleen whale. It migrates between feeding and breeding grounds yearly and makes one of the longest annual migrations of any mammal, traveling some 5,000 miles each way from its northern feeding grounds in Alaska to its breeding and calving grounds in the warm lagoons of Baja Mexico. Gray whales can reach about 49ft long and weigh up to 72,000lbs.
Humpback Whales (Megapteranovaeangliae)
The humpback whale is extremely maneuverable and the acrobat of the whale world. Humpbacks can measure 40-50ft long (females are usually larger than males) and can weigh up to 80,000lbs. They feed mainly on small shrimp-like crustaceans commonly known as krill, other zooplankton and small schooling fish. Humpback whales are widely distributed over all the oceans from the poles to the topics, but there are distinct seasonal changes in their distribution.
Blue Whales (Balaenopteramusculus)
Blue Whales are one of the largest creatures to ever live on our planet! The average size of a blue whale is 80-90ft, with the largest recorded whale measured 110ft (that's the size of two school buses parked end to end!) Blue whales are found in all oceans, and in the western Pacific Ocean, blue whales range from Gulf of Alaska, which is an area rich in food, all the way to Costa Rica, where it is believed they migrate to bread and have their young. Blue whales are currently listed as endangered animals with only about 2,500 left in the North Pacific population.
Dolphin
Common Dolphin (Delphinus delphis)
There are two species of Common Dolphin, the short-beaked common dolphin and the long-beaked common dolphin (both seen in here whale watching in Laguna Beach). They are found in the North and South Pacific and Indian oceans, and are widely distributed in warmer temperate and tropical waters of all the oceans of the world. Both common dolphin adults range between 5 ft-5.5ft long, and can weigh about 300lbs. They are very fast swimmers, reaching speeds of up to 29 miles per hour, averaging about 100 miles per day, which is one of the reasons these dolphins don't do well in captivity.Dolphins have a unique adaptation called echolocation. They create a series of clicking sounds, made from a specialized organ under the blowhole. These clicks are sent out of the melon and are like an ultrasound machine. They bounce off objects, and the information is sent back to the dolphin to create an image.
Bottlenose Dolphin (TursiopsTruncatus)
The bottlenose dolphin have a short stubby beak- hence the name "bottlenose." The common bottlenose dolphin is the most familiar of the family of whales and dolphins (cetaceans) because of its coastal occurrence around the world and its prevalence in zoos and aquariums. Adults range between 8-12ft and may weigh as much as 1,430lbs.Bottlenose dolphins can reach speeds in excess of 18 miles per hour, and they have an average lifespan in the wild of about 30-40 years. Often seen surfing in the waves at Laguna main beach.
Pacific White Sided Dolphin (Lagenorthynchusobliquidens)
Pacific white-sided dolphin is dark grey or black in coloration. As its name suggests, it has a greyish side patch which extends down the sides to just below the dorsal fin. These dolphin reach a length of 7-8 feet and weigh about 300lbs. Pacific white-sided dolphins are extremely agile, acrobatic and social. Generally traveling in groups of tens or hundreds of individuals, they can be seen in herds of 2,000 or more.
Risso's Dolphin (Grampus griseus)
Risso's dolphin is named after Antoine Risso, whose description formed the basis of the first public description of the animal. They usually weigh between 650-1100lbs and are about 10ft in length. These animals primarily feed on small schooling fish and squid, and when we have lots of bait in the area, these curious dolphin make an appearance.
---
Helpful Hints to Maximize Your Laguna Beach Whale Watching Experience
When should I arrive for my scheduled reservation & where should I park?
Please try to arrive at least 30 minutes before your cruise departure time. If you need help with directions or parking please visit our parking and directions page at https://www.daveyslocker.com/contact-us-directions/
What are some things I should bring onboard a whale watching cruise?
Water
Sun protection, such as sunscreen and a hat
Light jacket, cold mornings and evenings from Fall to Spring
Camera (recommended)
Cash if you want to purchase light snacks or drinks from the onboard kitchen.
Rent or bring binoculars
Checking the weather beforehand can be helpful in figuring out what would be best to wear, as it can get cold out on the water. https://weather.com/weather/tenday/l/Laguna+Beach+CA+USCA0573:1:US
What if I get motion sickness?
With the waters off Laguna Beach protected from Catalina Island to the West and Palos Verde Peninsula to the north, lake like conditions are the norm and we typically don't have many issues with motion sickness. But if you know you are prone to motion sickness a helpful tip would be to take Bonine or Dramamine AT LEAST 1 hour before you board the vessel. What has worked well for some is to take the motion sickness pill the night before your trip. Then when you wake up in the morning, take one more pill, that way you can combat any drowsy affects the motion sickness pill might have on you. These work great, and we also sell them in our office if you do not have time to pick them up on your way here.
Another option is wearing Sea-Bands which are a knitted elasticated wrist band, which works by applying pressure on an acupressure point on each wrist by means of a plastic stud. Because the bands do not use drugs, they do not cause any of the side effects associated with anti-nausea drugs and can be worn on each wrist whenever you feel nauseous. They are suitable for adults and children. Those who prefer an herbal remedy may look into eating or chewing on ginger or ginger flavored candy, which can help relieve nausea.
---
Educational Resources
The American Cetacean Society – Orange County Chapter http://www.acsorangecounty.org/
The American Cetacean Society has been dedicated to protecting whales since 1967. ACS, a nonprofit organization, protects cetaceans (whales, dolphins, and porpoises) and their habitats through public education, research grants and conservation activities.
They have free lectures, courses to become a certified ACS-OC Naturalist, and have volunteer opportunities on local whale watching boats in Newport Beach.
Pacific Marine Mammal Center https://www.pacificmmc.org/. Located in Laguna Beach, you can visit the Pacific Marine Mammal Center and learn more about Sea Lions and Harbor Seals up close.
NOAA Guide to Whales for Kids http://www.nmfs.noaa.gov/pr/education/whales.htm
A comprehensive guide to marine mammal facts & information
http://www.whalefacts.org/species-list/
Visit http://www.newportwhales.com/school.html where you can find pre and post trip activity packets along with whale and dolphin information and additional fun and educational activities listed under "Curriculum Packets."
---
Book Your Trip Below
SPECIAL PRICE DOES NOT APPLY TO LUXURY CRUISES OR ULTIMATE WHALE WATCH
---
For Laguna Beach Visitor Whale Watching Coupons, please feel free to sign up for our monthly newsletter & follow us on Facebook. You'll be kept up to date on all things whale watching Laguna Beach, and of course holiday specials and promotions.
---