Information for Dana Point Residents and Visitors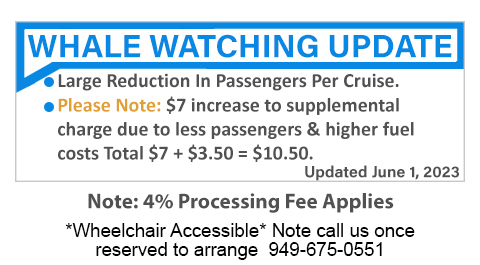 Dana Point is located about halfway between San Diego and Los Angeles. Along with hosting such events as the Festival of the Whales, Dana Point also is home to the Ocean Institute a non-profit research educational center teaching kids about marine life and marine mammals. As you would expect, Whale Watching Dana Point is a popular activity, and Davey's Locker provides whale watching cruises daily year round from Newport Bay located 30 minutes from downtown Dana Point. >> Check out the Whale Watching Cruise Times & Pricing Info.
Davey's Locker Offers Dana Point Whale Watching Visitors Daily Departures Year Round
Davey's Locker has provided whale watching cruises for Dana Point area visitors and residents for over 30 years. During the summer and fall months it is not uncommon to see giant blue whales and finback whales just outside the bay. During the winter and spring months the gray migration often has multiple gray whales just outside the bay's entrance. Along with our pricing and schedule for whale watching visitors from Dana Point, Davey's Locker has provided recommended hotels for those staying in Dana Point as well as popular attractions and other activities that whale watchers might find to be a neat addition.
Cruise lengths vary depending on the time of year. For departures please see the chart below. Refreshments and snacks are available on the ship's snack bar. The Ocean Explorer is Davey's Locker's primary whale watching ship, 65 feet in length with both outdoor and indoor seating a upper level observation deck and staff with over 30 years of combined experience in narration of whale watching cruises. The Ocean Explorer makes for a very comfortable and enjoyable whale watching excursion. Davey's Locker with over 30 years of whale watching for Long Beach and Orange County has provided whale watching tours to families and their kids, grand kids and great grand kids making Davey's Locker a whale watching tradition that we are very proud of. Private whale watching charters or boat rentals are also available.
---
Recommended Hotels
The Ritz-Carlton, Laguna Niguel
1 Ritz Carlton Drive
Dana Point, CA 92629
(949) 240-2000Laguna Cliffs Marriott Resort & Spa
25135 Park Lantern
Dana Point,CA 92629
(949) 661-5000
The St. Regis Monarch Beach Resort & Spa
1 Monarch Beach Resort
Dana Point, CA 92629
(949) 234-3200Doubletree Guest Suites Doheny Beach
34402 Pacific Coast Highway
Dana Point, CA 92629
(949) 661-1100
---
Recommended Attractions
Ocean Institute
24200 Dana Point Harbor Dr.
Dana Point, CA 92629
(949) 496-2274Zoomars Petting Zoo and Bird Park
31791 Los Rios Street
San Juan Capistrano, CA 92675
(949) 831-6550
The Spa at Laguna Cliffs
25135 Park Lantern
Dana Point, CA 92629Pacific Marine Mammal Center
20612 Laguna Canyon Road
Laguna Beach, CA 92651
(949) 494-3050
---
Recommended Nature & Parks
Doheny State Beach
25300 Dana Point Harbor Dr.
Dana Point, CA 92629
(949) 496-6172Dana Point Marine Reserve
24200 Dana Point Harbor Dr.
Dana Point, CA 92629
Ocean Institute
(949) 496-2274
Salt Creek Beach
33333 S. Pacific Coast Hwy.
Dana Point, CA 92629
(949) 923-2280 or (949) 923-2283
---
Book Your Trip Online
Use promo code: DANA15 at checkout to get the $15 promotion.

SPECIAL PRICE DOES NOT APPLY TO LUXURY CRUISES OR ULTIMATE WHALE WATCH
FEES APPLY
---
For Dana Point Visitor Whale Watching Coupons, please feel free to sign up for our monthly newsletter & follow us on Facebook. You'll be kept up to date on all things whale watching Los Angeles, and of course holiday specials and promotions.
Save
Save