School Field Trips | Enhanced Cruises | MPA Cruises | Our Educators | Reserve a Trip
A fun, educational and wildly exciting trip!
Providing Southern California students with an exceptional whale watching experience for over 20 years!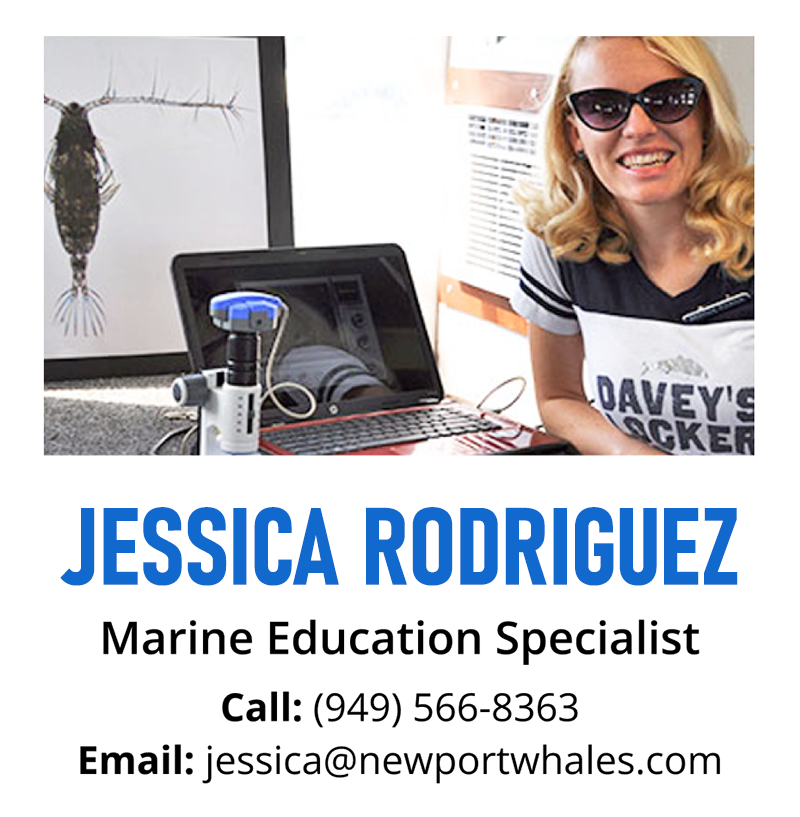 Davey's Locker's whale watching school field trips offer year round opportunities to view whales, dolphin, sea lions, and many other marine animals from the safety of a large whale watching ship. Davey's Locker's educational team provides presentations touching on state educational standards, onboard narration, and post cruise activities to enrich the whale watching field trip experience for students from all different grade levels.
Davey's Locker Whale Watching has served public schools, private schools and homeschool groups, & has provided students with an exceptional whale watching experience for over 20 years. Each year over 400 groups from the Los Angeles and the Southern California region come out on one of our whale watching trips. Whale watching cruises not only focus on viewing large whales & dolphins, but we cover the complete marine ecosystem, offering a unique learning environment that many students are exposed to for the very first time on one of our cruises.
Davey's Locker Whale Watching strives to share our love of marine life with the public with the hope of spreading greater awareness of cetaceans and environmental stewardship of the ocean. Newport Landing provides a year-round comprehensive learning experience with an enjoyable, educational and engaging curriculum designed around the California State Board of Education's standards for learning. Click below to find out how our fieldtrip experience can meet the science standards for your grade level.
FOR TEACHERS
Click below to view a list of downloadable links of Curriculum Packets and Activity Sheets per grade level.
FOR PARENTS
Fun trips designed for the family!
Home School Whale Watching
Girl Scout & Boy Scout Whale Watching Trips
Our Whale Watching experience includes: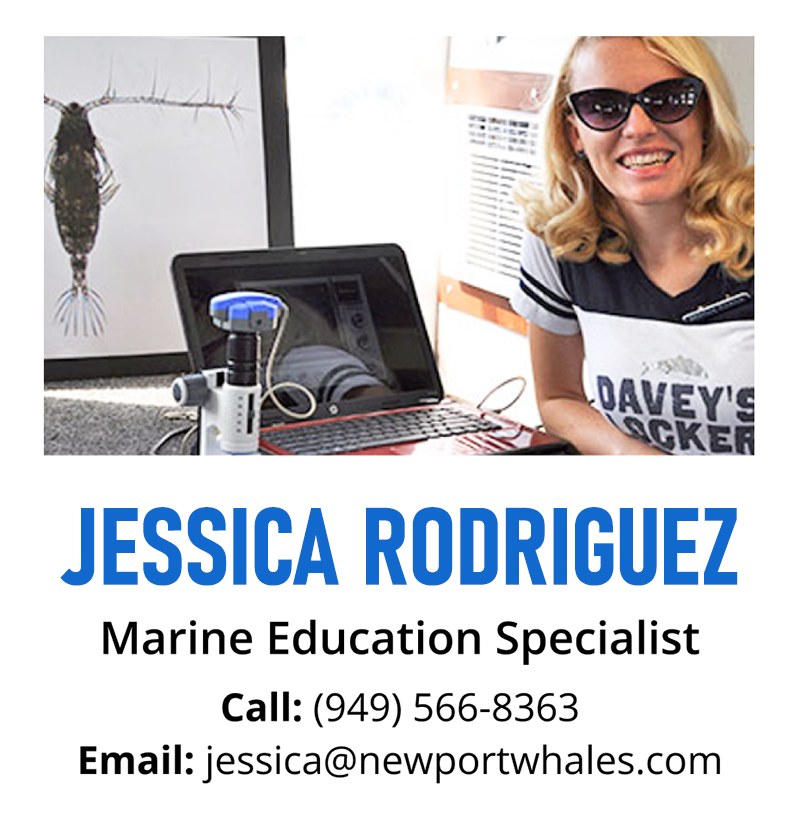 A fieldtrip aboard one of our safe and insured vessels to potentially view whales, dolphins, sea lions and marine birds.
Knowledgeable crew members on board the vessel to give information and answer questions about the sightings, boat and other related inquiries.
Newport Landing is also offering the option for an onboard American Cetacean Society Naturalist to accompany your class out on the water to answer any questions, and entertain the students throughout the trip. *dependent on naturalist availability
In class presentation with marine mammal artifacts by an American Cetacean Society Naturalist before your trip. *dependent on distance and naturalist availability
Grade level appropriate curriculum packets that can be printed and used to brief students on what they may be seeing on their trip and how it connects with what they are studying (see links below).
Post trip activity sheets that connect with state standards that may be printed and given to students as a follow up learning activity (see links below).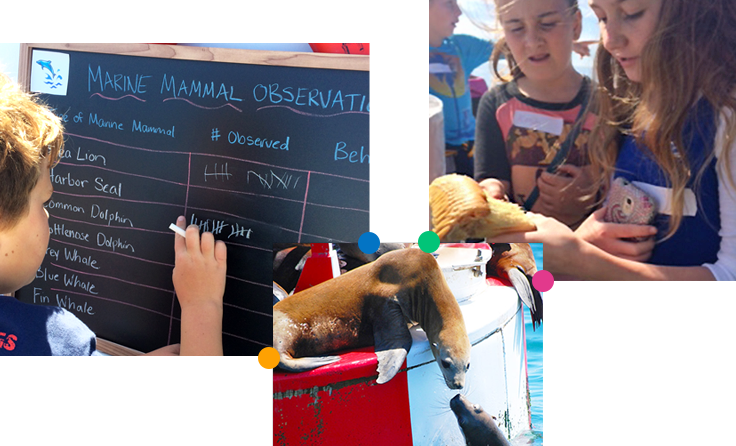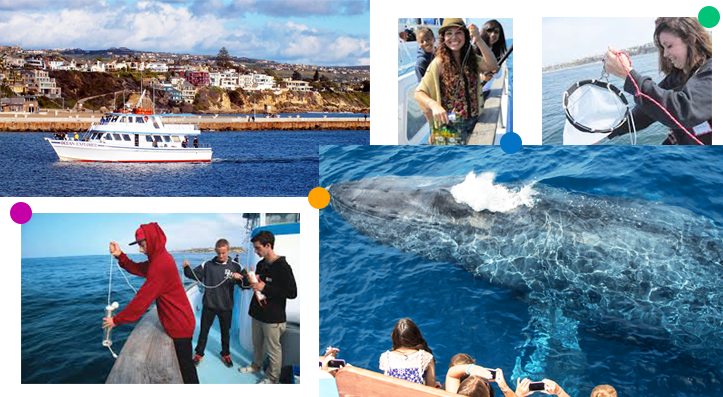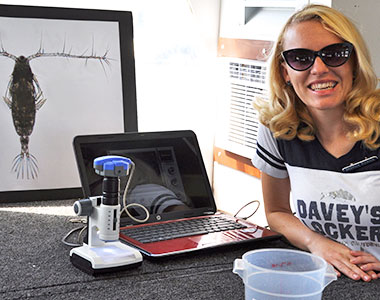 Jessica, Head of Marine Science Education
Jessica is our education coordinator and whale watching naturalist for Newport Whales. She has a Bachelor's degree in Biological Sciences and extensive hands-on experience in marine biology. Not only does she enjoy teaching others about the wonders of the ocean, but she spends much of her free time as a volunteer for several organizations working with marine mammals, penguins, and sharks just to name a few. She's an avid S.C.U.B.A. diver, and our on-the-water educational programs have created a great platform for her to engage with youth, teach them about marine life and get them excited about our oceans. Who knew learning could be so fun!
Email: jessica@newportwhales.com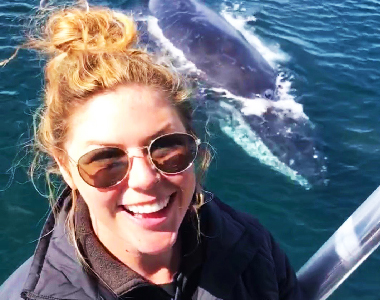 Erica, Marine Science Educator
Erica has worked with us at Newport Whales as an Education Coordinators and whale watching naturalists since 2020. She received her Bachelor of Science degree in Marine Biology from the University of New England in Maine and has worked on marine research and whale watching boats in British Columbia, New Zealand, Washington state, Monterey Bay, and Newport Beach. She loves to be on the water and especially loves answering questions and sharing her knowledge with students. She has also recently passed her requirements for her captain's license!
Email: erica@newportwhales.com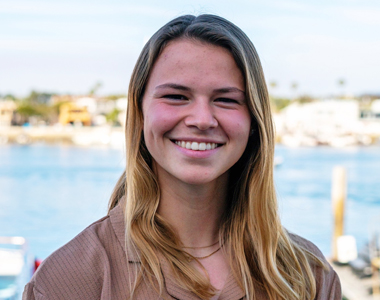 Christine, Marine Science Educator
Christine is the newest member of the Education Team, she joined us at Newport Landing in 2021. She's originally from Michigan and received her Bachelor of Science from the University of Michigan in Environmental Science. Christine has a background in child care, which when combined with her love of the ocean, led her to the position she has with us now! Being out on the water everyday looking at marine life and being able to educate kids about the wonders of the ocean is something she is grateful for every day!
Email: christine@newportwhales.com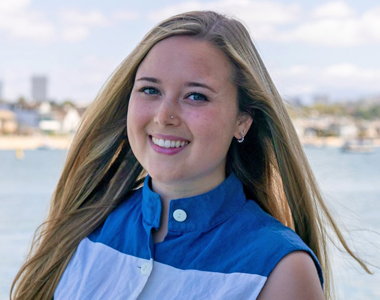 Jenna, Marine Science Educator
Jenna joined Newport Whales shortly after getting her Bachelor's degree in environmental science and biology in 2020. She has experience working up close with sharks, stingrays, and sea turtles, and loves educating others about how amazing our oceans are. If she's not on the boat you can catch her working with rescued seals and sea lions to aide in their rehabilitate and return to their ocean home. Jenna not only teaches others, but she loves to learn more about our oceans when she can by scuba diving on her off days! Jenna's passion has always been the ocean and its amazing creatures, and we're thrilled to have her on our team!
Email: jenna@newportwhales.com.com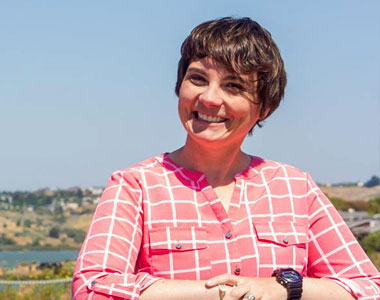 Jill, Marine Science Educator
Jill joined Newport Whales after a 13-year career with the United States Coast Guard as a Marine Science Technician and a civilian employee. After working for environmental change at the policy and enforcement level, she decided the best way to affect change is through education. Jill has a dedication and passion for all things ocean-science, especially cetaceans (whales and dolphins) and is continuing her education in Marine Biology and informal science education at California State University, Long Beach.
Email: jill@newportwhales.com.com
Cecilia, Marine Science Educator
Cecilia is the newest member of the Newport Landing education team and has brought her 3 years of experience teaching field trips to her new role as a Marine Naturalist. Originally from Central California, she completed her Bachelor's Degree in Marine Science at Florida Gulf Coast University then moved to Southern California to begin her career in outdoor education. She quickly found a passion in providing opportunities for students to connect with nature and be exposed to hands on science since she herself seldom had those opportunities in her k-12 education. Outside of the office you can find Cecilia out for a walk or SCUBA diving.