For over 20 years Davey's Locker burial at sea services has provided thousands of families with scattering of ashes at sea. Scattering locations off the Southern California Coastline are Newport Beach, Los Angeles, Long Beach, Huntington Beach, Laguna Beach, and more. For recommended scattering sites in the greater Los Angeles area, please see Los Angeles Burial at Sea. For more information about scattering sites in Long Beach, please see Long Beach Burial at Sea. For scattering sites in Huntington Beach, please see Huntington Beach Burial at Sea. See Laguna Beach Burial at Sea for scattering sites off the coast of Laguna Beach.
Burial at Sea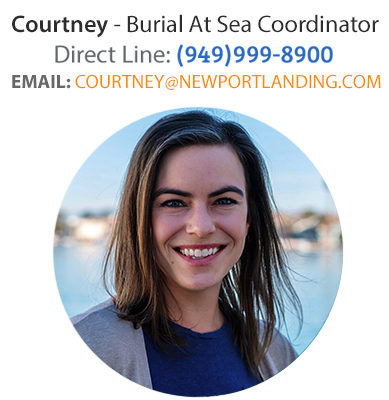 Burial At Sea also known as scattering of cremated remains has been the best option for interment for many families and loved ones. There are numerous reasons for selecting burial at sea or scattering of ashes at sea, including love of the sea, wishes of the deceased, nautical background or experiences, conservation of land space, environmentally friendly interment, spiritual associations with the ocean and its life chain, affordability, and uniqueness.
The different burial at sea services offered by Davey's Locker include:
Unattended ash scattering services
Viewing from shore services
Family attended ash scattering services
Burial at Sea Pricing
| Type | Weekday | Weekend |
| --- | --- | --- |
| Unattended | $350 | $450 |
| Viewing from shore | $850 to $1950 | $1450 to $2600 |
| Coastal attended | $850 to $1950 | $1450 to $2600 |
Weekday
Unattended: $350
Viewing from shore: $850 to $1950
Coastal attended: $1450 to $2600
Weekend
Unattended: $450
Viewing from shore: $850 to $1950
Coastal attended: $1450 to $2600
*Note pricing does not include 18% gratuity or 4% processing fee which will be added at the time of booking.
Within each type of burial at sea service, we can tailor the wishes of family, relatives, and friends to their specific wishes. With over 20 years of helping those dealing with loss, we take special care to ensure that all details are handled to the highest possible level. Many of us here at Davey's Locker have dealt with loss of family members, friends, and loved ones. We understand the challenges that can come with such a loss.
Unattended Ash Scattering Services
Unattended burial at sea services offer a dignified scattering option for family and loved ones who are unable to be present. The ashes are taken to a pre-selected location where they are released. The location of the scattering is marked with longitude and latitude coordinates which allows for revisiting the location. Pre-selected locations are available including beautiful coastal backdrops and island locations. Our unattended burial at sea services option gives family and loved ones that can not be physically present for the burial at sea service, a means to provide a peaceful interment. The unattended burial at sea services are also our most economical option. Cremated remains also known as Cremains are received and handled in a professional and respectful manor. Arrangements for transport can be made at the United States Postal Service.
Shore Viewing
Viewing from shore burial at sea services enables family, and loved ones to witness the scattering services from land whether a beach, surrounding hills, or from one of our several piers. One of our vessels will depart Newport Harbor and reach a pre selected location. At this point the ashes are released. Those observing from shore witness the scattering. Upon completion of the scattering of the ashes, the longitude and latitude coordinates are noted and provided to the attendees.
Family Attended Ash Scattering Services
Family attended burial at sea services offers family and loved ones the option to view the scattering services on one of our several vessels. Our vessels can accommodate up to 144 passengers. All of our vessels have indoor and outdoor seating, full wash room services, and have amenities for food and beverages. The size of our ships coupled with the protected waters that surround Newport Harbor provide ocean conditions that are comparable to an inland lake, for those that are concerned with motion sickness and challenging ocean environments, this can be quite comforting. With our family attended burial at sea service, the entire ship is reserved for only your group. Your reserved vessel departs from Newport Harbor and travels roughly 15 minutes to the harbor entrance. From Newport Harbor's entrance to the selected location can vary from a few minutes to an hour or more depending on the distance to the selected location. Location options include Laguna Beach with beautiful coves and dramatic cliffs, Newport Beach and Huntington Beach with vast white sand beaches, or even Catalina Island. Once your vessel reaches the destination the scattering is performed. Once the burial at sea service is complete you can return to Newport Harbor or elect to stay out for an extended period of time either traveling the coastline or just cruising through the open ocean. Scattering services performed vary in both cost and duration based on your wishes. A standard burial at sea service lasts approximately 1 ½ hours but we can customize trip lengths to accommodate almost any wish.
---
Scattering Locations

Los Angeles
For scatterings in Los Angeles, some nice areas are the Point Fermin Lighthouse and the USS Iowa. For a scenic backdrop in Los Angeles, the Point Fermin Lighthouse sits atop the cliff faced San Pedro coastline. This Los Angeles scattering location is a perfect landmark enabling an ideal revisiting and reflecting spot from land or sea. The USS Iowa is an ideal scattering location in Los Angeles for military personnel. This historic Naval Battleship is located in the Port of Los Angeles facing the harbor entrance. We cannot scatter inside the Port of Los Angeles, but due to the location of the ship, we have a perfect line of site while in the open ocean. The USS Iowa and the backdrop of the Port of Los Angeles creates a memorable location for your loved one. Scattering services to Los Angeles may require additional travel time. Please contact Courtney@DaveysLocker.com for details.

Long Beach
Located around the corner of the San Pedro peninsula in Los Angeles is the port of Long Beach. Long Beach is home to the Queen Mary and Belmont Shores. Long Beach offers a bit more modern backdrop than most coastlines in Los Angeles County. The Queen Mary along with other cruise ships line the Long Beach Harbor mouth offering a theme perfect for those that enjoyed travel and adventure. The Belmont pier is at the Southern end of Long Beach and is an ideal selection for those that would like a revisit spot as close as possible to the scattering point. Scattering services to Long Beach may require additional travel time. Please contact Courtney@DaveysLocker.com for details.

Huntington Beach
If you are looking for scattering sites in Orange County, we suggest Huntington Beach. The wetlands in Huntington Beach offer a natural preserve filled with wildlife. Hundreds of marine birds filling the background of your selected scattering site is perfect for any nature enthusiast. Huntington Beach also has the longest pier in Orange County. The Huntington Beach Pier is an amazing landmark for any Orange County ash scattering. Due to the piers length it allows family and friends to observe the scattering from shore as well as from the vessel.

Laguna Beach
For a more rustic and undeveloped scattering location in Orange County we recommend Laguna Beach. Laguna Beach offers cliff faced beaches and near shore rock formations creating a beautiful backdrop for any scattering. Emerald Bay located in the heart of Laguna Beach is our most requested site. Twin Point Park overlooking Laguna Beach's Emerald Bay is a beautiful revisit site for scatterings off Laguna Beach.
---
Frequently Asked Questions:
How are the cremains (ashes) dispersed into the ocean?
The cremains are transferred from the urn (container) you bring them in, to a decorative canister . The canister is lowered by the Captain (by request), with voluntary assistance from family members, into the ocean. Family and friends can participate in "lowering the cremains to the deep" by assisting in letting go of the rope.
What kind of documents do you need to scatter the cremains?
The Authorization for Scattering Cremains form can be downloaded from our site and sent with the cremains when you send them to us for disposition. Click here for Form
What kind of official documents do you need to scatter ashes?
We need a death certificate from the County Health Department from the county of death, and a burial permit from the County Vital Statistics Office at the place of disposition, Orange County California. Orange County Health Department Burial Permit
Are services available on weekends?
We provide burial at sea services on both weekdays and weekends. Services can be customized to accommodate almost any time request.
Can you accommodate special requests for scattering?
Yes, we are very flexible and do our best to fulfill all requests.
Do I have to make a reservation?
Yes. Although we can arrange scattering of ashes service within a day reservations made a week or more prior to the selected date enables us to provide the high degree of service that we pride ourselves on.
Can we set an appointment for the scattering of ashes service?
Yes. Appointments are usually made to gather attendees at the landing for subsequent departure. Usually arriving 15 minutes before scheduled departure is sufficient. We require that all attendees fill out a coast guard manifest (passenger list) prior to departure. This process usually takes a few minutes. The manifest can be completed beforehand as well and dropped off in our office prior to departure.
Do you need an Officiant?
No. You are not required to have an Officiant to perform your service. Typically family members and friends will assume the roll. If you would like an Officiant and do not already have a church or place of worship who is available we recommend Jacqueline Soares.
Do you have restrooms on board?
Yes. We have both ladies and gentlemen washrooms.
For families on a tight budget, what do you offer?
Our unattended ash scattering service is the most economical option with the total cost of $250.
How can I contact a veteran's organization to provide color guard, taps, salute, etc., for a veteran's burial at sea?
We have the name and phone number to contact for the military honor guard provided by the V.F.W. (Veterans of Foreign Wars). There is no charge for this service by the honor guard; however, a donation to cover their personal expenses is appropriate. Veterans Honor Program
How long has Davey's Locker been providing ash scattering at sea and burial at sea services?
We have been scattering ashes at sea for over 20 years. Davey's Locker has provided ash scattering services to thousands of families. All of our vessels are Coast Guard Certified.
How far do we go offshore?
Distance varies based on the selected location. In many cases ash scattering services are five hundred yards or ½ mile from shore.
How fast do the boats go?
Approximately 12 knots (13 miles per hour).
How is payment made and when?
Payment can be made by personal check, money order, cashier's check, or by credit card (all major cards accepted). A nonrefundable deposit of 50% will be rendered at booking. The deposit is transferable should you need to adjust your date and time, based on availability. The balance can be paid any time prior to the vessel's departure. Payments made by credit card can be done so over the phone. If you are mailing a payment, please make checks and money orders payable to Davey's Locker. Payments can be mailed to:
Davey's Locker
400 Main St
Newport Beach, CA. 92661
How large are the vessels, and how many passengers can attend?
We have 8 vessels that range from 65 to 80 feet in length that can accommodate up to 144 passengers. Larger vessels can be arranged upon request.
How long is the burial at sea service?
A standard service is approximately 1 to 1 ½ hours. Additional hours and other locals such as Catalina Island require additional travel time.
How will I know when and where the unattended scattering took place?
We will perform an unattended ash scattering service no more than 14 days after receipt. Typically we will perform the service within the week. Upon your request, after the service is preformed you will receive a memorial certificate indicating the date of the scattering service. The memorial certificate will also contain the latitude and longitude of where the ashes were scattered.
How will I know where dispersal took place?
We will provide you the exact longitude and latitude coordinates where the cremains were released.
Is sending the cremains by US Postal Service a proven and reliable method?
Yes, it's been proven to be the best, fastest, and most reliable method. Some other delivery providers will not accept cremains due to liability restrictions.
Is the cruise safe for children?
Yes, railings around the boat and a large enclosed area offer both safety and comfort. In over 20 years, we have never had an incident with any of our burial at sea services.
Is there room to walk around the boat?
Yes. The outside areas as well as enclosed areas are very spacious. Our large vessels offer ample room for all passengers attending.
What about providing flowers and wreaths?
Family and friends can bring flowers or wreaths for tossing into the ocean immediately after the cremains are lowered. All flower ties or floral arrangement material must be made of biodegradable materials if being placed in the ocean. Flower services are available through Davey's Locker. Flower Service
What are the locations available for scattering at sea?
We provide a complete selection of locations from sandy beaches to rocky cliffs. Locations that are farther from Newport Harbor are available but may require additional travel time. Please ask us for different options.
What type of clothing/shoes/hat/glasses should we wear?
You are free to wear whatever clothing you feel comfortable in. We recommend matching your clothing with the current weather conditions. Feel free to give us a call if you are unsure of the current weather conditions.
How would I best contact you?

For immediate service call our direct number at (949)-999-8900.
Feel free to email us at: courtney@daveyslocker.com
Our direct mailing address is: 400 Main St. Newport Beach, CA. 92661