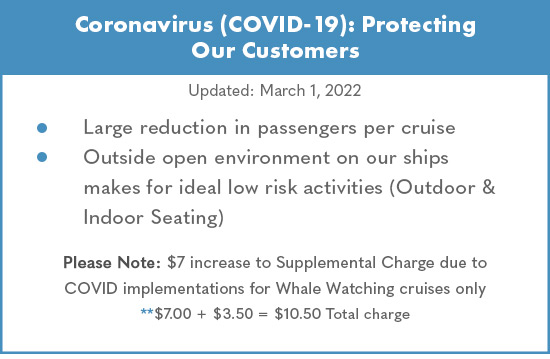 Located in Newport Beach, Davey's Locker has been providing whale watching cruises for over 40 years to both residents and visitors to Newport Beach. Davey's Locker departs from the historic Balboa Pavilion in Newport Bay. Year round whale watching cruises view giant blue whales and finback whales during the summer and fall months. Giant gray whales are viewed during their annual migration during the winter and spring months. >> Check out the Whale Watching Cruise Times & Pricing Info.
Davey's Locker Offers Daily Departures Year Round
The pristine waters just outside Newport Bay offer a very healthy ecosystem which supports all types of marine life including whales and dolphin. Newport Beach is internationally recognized as one of the top whale watching destinations in the world, and yet only minutes from downtown Los Angeles and greater southern California easily accessible to the general public. Unlike many whale watching locations that charge a hundred or hundreds of dollars to view whales, it only takes a 2 ½ hour time commitment and $30 to experience these magnificent creatures. Along with our pricing and schedule for whale watching in Newport Beach, Davey's has provided recommended hotels for those staying in Newport Beach as well as popular attractions and other activities that whale watchers might find to be a neat addition while in Newport Beach.
Laguna Beach Whale Watching – Whale watching cruises off Laguna Beach
---
Recommended Hotels
Newport Beach Marriott Hotel & Spa
900 Newport Center Drive
Newport Beach, CA 92660
(949) 640-4000Marriott Vacation Club- Newport Coast Villas
23000 Newport Coast Drive
Newport Beach, CA 92657
(949) 464-6447Newport Channel Inn
6030 W Coast Hwy
Newport Beach, CA 92663
(949) 642-3030
Doryman's Newport Beach Hotel & Inn
2102 West Oceanfront
Newport Beach, CA 92663
(949) 675-7300Best Western Plus – Newport Beach Inn
6208 W Coast Hwy.
Newport Beach, CA 92663
(949) 642-8252Hyatt Regency Newport Beach
1107 Jamboree Road
Newport Beach, CA 92660
(949) 729-1234
---
Recommended Attractions
Funzone & Boardwalk
600 East Bay Ave.
Balboa, CA 92661Balboa Pavilion
400 Main Street
Newport Beach, CA 92661
(800) 830-7744Flyer-Catalina Island
400 Main Street
Newport Beach, CA 92661
(800) 830-7744

Balboa Island
A Complete Guide
To Balboa Island

Wedge (Famous Giant Waves)
West Jetty View Park & Channel Road
Newport Beach, CA 92663
(949) 644-3151Fashion Island
401 Newport Center Drive
Newport Beach, CA 92660
(949) 721-2000Balboa Island
100 Marine Avenue
Balboa Island, CA 92662
---
Recommended Nature & Parks
Upper Newport Bay Ecological Reserve
2301 University Drive Newport Beach 92660
(949) 923-2290West Jetty View Park, Newport Beach, CA
Channel Rd & E Ocean Front
Newport Beach,CA,92663
(949) 644-3151
Newport Bay Naturalists Kayak Tour
2301 University Dr.
Newport Beach, CA 92660
(949) 640-6746 or (949) 923-2269Crystal Cove State Beach, Newport Beach, CA
SP 8471 North Coast Highway
Laguna Beach CA 92651
(714) 494-3539Newport Beach to Huntington Beach Bike Path
---
Plan Your Whale-Watching Cruise
DEPARTURE TIMES
| Dates | Cruise 1 | Cruise 2 | Cruise 3 | Cruise 4 |
| --- | --- | --- | --- | --- |
| Nov – Feb (Mon – Fri) | 10:00 am | 1:00 pm | n/a | n/a |
| Nov – Feb (Sat & Sun) | 9:30 am | 12:00 pm | 2:30 pm | n/a |
| Mar – Oct (Daily) | 10:00 am | 1:00 pm | 3:30 pm | 6:00 pm* |
Departure Times
Nov – Feb (Mon – Fri): 10:00am*, 1:00pm*
Nov – Feb (Sat & Sun): 9:30am*, 12:00pm*, 2:30pm*
Mar – Oct (Daily): 10:00am*, 1:00pm*, 3:30pm*, 6:00pm*
PRICES
| Age | Weekdays | Weekends & Holidays |
| --- | --- | --- |
| Adults (Ages 13–59) | $32.00 | $36.00 |
| Juniors (Ages 3–12) | $26.00 | $30.00 |
| Seniors (60+) | $26.00 | $30.00 |
| Toddlers (Ages 0–2) | Free | Free |
---
Adult Ticket (Ages 13-59): $34.00
Juniors (Ages 3-12): $28.00
Seniors (Ages 60+): $28.00
Toddlers (Ages 0-2): $2.50
Adult Ticket (Ages 13-59): $38.00
Juniors (Ages 3-12): $32.00
Seniors (Ages 60+): $32.00
Toddlers (Ages 0-2): $2.50