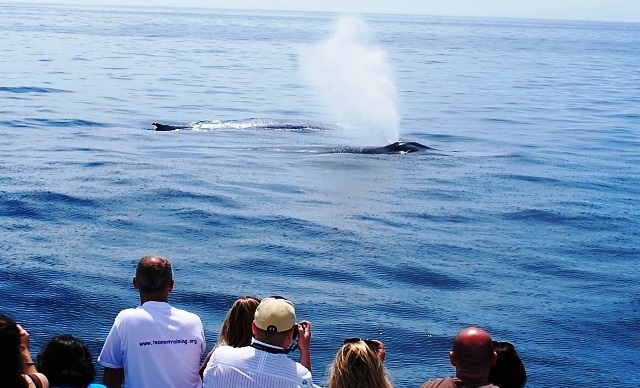 Do not miss Long Beach and its surrounding communities if you ever have a chance to go to Southern California. They offer a bounty of activities and events. It has plenty of stops and shops along the way, in addition to whale watching and great scenery. Bask in the sunshine and enjoy the fun.
In Orange County, you will be able to find the world's Disneyland Resort host, which happens to be the Disneyland theme park. Shops, restaurants, and hotels could all be found here. Eighty-five different attractions could be found like Space Mountain. If you're in Long Beach make sure to go see Disneyland, even when just once.
Take your kids, family and friends; get them up-close and personal with five species of dolphins and whales. It's an exciting experience for the entire family when you go to the whale watching tour. Whale watching is an experience that lots of families treasure for a while. Whale watching is a necessity when you visit California.
A great place to start the summer is at Big Bear in Southern California. You can enjoy various outdoor activities and events such as water sports and boating. Big Bear is quite an affordable family destination, offering a variety of activities during the spring and summer. Long Beach is only two hours from Big Bear.
California beaches might be famous but they are not like what you see on tv. West Coast sunshine isn't what the Beach Boys told you it had been. Your first visit will prove that it's usually pretty overcast. Clouds do not stop UV light, even if it's overcast, so remember to put on lots of sunscreen.
Get up close to the dolphins and whales when you tag along on Davey's Locker whale watching tour. This is a great way to use deck viewing without crowds. Each tour sails near Long Beach on a daily basis.
Universal Studios is also a theme park and not just a movie studio. The company's extensive film holdings offer great rides, and there are also many new attractions that are considered most innovative and fun. King Kong 3D is one of the best experiences of the tour. The weekday tour is quite busy because the studios are not working on the weekends.
In Long Beach, California, whale watching is enjoyed all year long. Whale watching and dolphin watching is great when you're aboard the tour boats. Designed for visitors, the boats are safe and stable so you could enjoy an up-close experience.
Tourists flock to Catalina Island all year since it has a Mediterranean climate. Summer is possibly the best time to go to, and the weather is typically very warm. Bad weather is why it's not popular during winter, but the price is down. All year the hotels, shops, and many eateries are open.
In California, Santa Monica Pier exists as one of the oldest piers. The pier is a great spot to see some of Santa Monica Bay's most beautiful views. You could see everything from Malibu to Palos Verdes Peninsula, and even Catalina Island, on a clear day. It's free to enter the pier.
The Hollywood Walk of Fame is featured on Hollywood Boulevard and also other famous landmarks. The Kodak Theater is located with a number of shops, and eateries at the Hollywood and Highland Entertainment Complex. Most go there hoping to run into a famous celebrity. Tourists will probably be everywhere.
A few of the largest dolphin herds or pods' in the world are found off the cost of Southern California. There are thousands of common dolphins to run into for hours at a time. Get close and personal to dolphins on Davey's Locker dolphin watching tours. This is absolutely an absolute must on your Long Beach visit list.

Many fun visits like the Polar Rim, Panda Canyon, and Elephant Odyssey might be found at the San Diego Zoo. The zoo is also a botanical garden, and it's great for any plant lover. The plant-lovers are offered special garden guides, near the entrance. The zoo has many interesting special programs, which change seasonally.
Sea World San Diego has fun rides, animal exhibits and shows, and it's easy to stroll through. Sea World San Diego has appeal to a lot of people but more so to families. Nevertheless, it isn't a place where you'll find thrill rides. It's fun and the animal acts are usually predictable.
A whale watch boat excursion is a must do activity near Long Beach and visitors enjoy the whales, dolphin and beautiful scenery that our Long Beach Whale Watching tours and Whale Watching Orange County from Newport Beach and Whale Watching Orange County viewings takes place on our ships.