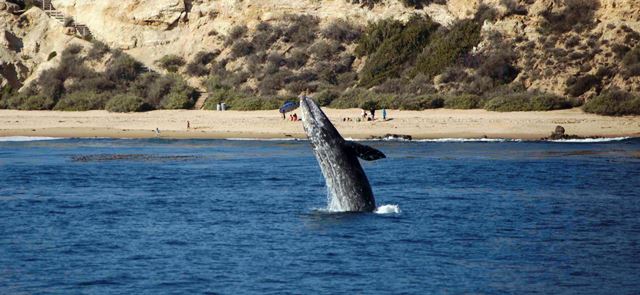 Your family will find there's no lack of things to do in Southern California, everything from whale watching to uncounted local events. From Shakespeare to local cuisine, and outdoor action to a day at Six Flags, there's always something fun to do. There are many things to do when you visit the Laguna Beach area and the cities around it. You'll never forget the experience.
No matter what time of the year it is, it is usually fun to whale watch in Laguna Beach, California. When on the tour boat, you can whale watch and dolphin watch for two and a half hours daily. Tour boats are extremely well put together and safe, built especially so tourists can see whales and dolphins up close and personal.
This is a favorite destination for some. The variety of the delicious food and little ships, in addition to the casual open venue is great about the Farmers Market. You will be in a position to find any world cuisine. The aromas found here are intoxicating.
You may well not find the same beaches as on tv when visiting California. West Coast sunshine has been immortalized by the Beach Boys, but they weren't quite telling it like it's. First-time visitors can be surprised to find that Southern California isn't quite as sunny as anticipated, particularly at the beaches. A layer of sunscreen is usually important because even through clouds you could burn.
People are attracted year-round to Catalina Island's Mediterranean climate. Most tourists are seen during the warm summers. A little bad weather is found in winter, so it's a little cheaper. The different hotels, various shops, and different restaurants are mostly open all year.
The Disneyland Resort plays the host to Disneyland theme park in Orange County. Shops, eateries, and hotels can all be found here. Over 85 attractions can be found, including the exciting Space Mountain. You should go at least once in your lifetime.
Take your kids, family and friends; get them up-close and personal with five species of dolphins and whales. The entire family could expect an amazingly thrilling adventure on a whale watching tour. Your family will probably be talking about your whale watching experience for many years to come. Make sure never to miss whale watching when visiting California.
One of the oldest piers in California is really the Santa Monica Pier. From a great vantage point, some of the very best views of the Santa Monica Bay might be seen. You could see the entire coast as well as the Catalina Island on a clear day. You'll be happy to understand that it's free to go to the pier, in the event you were wondering about admission.
Sea World located in San Diego, California is a medium-sized theme park, that is not hard to walk across, with rides, animal exhibits and shows. Sea World San Diego is appealing to almost everyone, especially families. Thrill rides must be found somewhere else. It's fun, even though the animal acts could be predictable and there are not many thrills.
The Hollywood Bowl, the great venue, serves as the summer home for the famous Philharmonic orchestra. It offers tons of different musical acts. Hillside picnicking is popular in the Bowl, and you are allowed wine. You could enjoy a family picnic prior to and during every performance.
Davey's Locker whale watching tour is a good way to get really near both dolphins and whales. It's never crowded for the tour boat with viewing deck. Each tour sails near Laguna Beach on a daily basis.

A theme park and studio is really what Universal Studio Hollywood consists of. There are fantastic rides on the company's extensive film holdings, and many new attractions that are considered innovative and fun. King Kong 3D is one of the very best experiences of the tour. Studios are closed on the weekend, so there's more activity during weekday tours.
The coolest spot in Southern California to start your summer is Big Bear. Water sports, boating, and other outdoor activities are there. With a variety of fun things to do during the spring and summer seasons, families could find an affordable destination at Big Bear. Big Bear is less than 2 hours away from the city of Laguna Beach.
Bring the kids, family and friends to get up close with 5 species of dolphins and whales. Whale Watching tours Orange County and Dana Point Whale Watching cruises from Newport Beach is incredibly exciting and educational. Whale watching is a don't-miss when looking for things to do near Laguna Beach.