Summer Whale Watching Cruises Daily
Blue Whales Have Arrived In Big Numbers Off Newport Beach!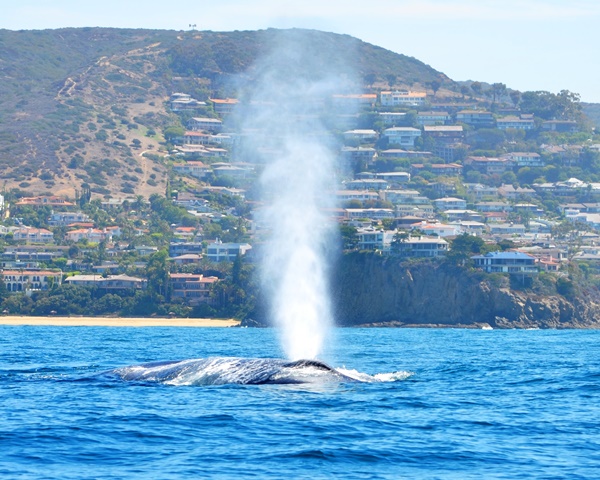 "Blue whale spouts in all directions" (Wednesday July 9) was the quote from Captain Kane Curran on Davey's Locker's Whale Watching ship, the Ocean Explorer. Blue whales are here in good numbers with cruises seeing up to 4 blue whales a cruise over the past few days. The blue whale migration takes place from now until late September/early October. Blue whales are the largest of all the whales and the largest living creature on Earth. Growing to over 80 feet in length, these giants are amazing to view. Blue whale watching cruises are offered multiple times daily with Davey's Locker and the whale watching is so good that only a 2.5 hour whale watching cruise is needed to view whales and dolphin. Along with the large influx of blue whales, finback whales and minke whales are also possible from now until October. Along with several verities of whales, huge pods of common and bottlenose dolphin are viewed on most whale watching cruises. These pods can number in the hundreds or thousands and provide incredible viewing opportunities. Davey's Locker Whale Watching is centrally located in greater Los Angeles area and just a short drive from all of the beach cities including Santa Monica, Long Beach, Huntington Beach, Laguna Beach, & Dana Point. Hope you can join one of our whale watching cruise for this summer 2014.