This newly built 2016 Corinthian 72 foot catamaran is state of the art and considered the premier ship design in the Corinthian line of catamarans.  Built with stadium bow seating for 25 persons the 26 foot wide bow can accommodate another 40 persons for optimal sightseeing.  An upper deck has surround seating and partially enclosed with canopy as well as a sun deck.  360 degree views from the upper deck provides scenic opportunities from all vantage points.  The lower deck includes a spacious indoor salon with full bar and bartender, large windows, and seating for over 50 persons.  The indoor salon is ideal for buffets, live entertainment, and for presentations/meetings.  The Newport Legacy has lots of other amenities as well  including men's and women's facilities, surround sound system, wireless microphone, onboard attendants, to name a few.  Top cruising speed is 16 knots and the Newport Legacy has an extended range for all event lengths.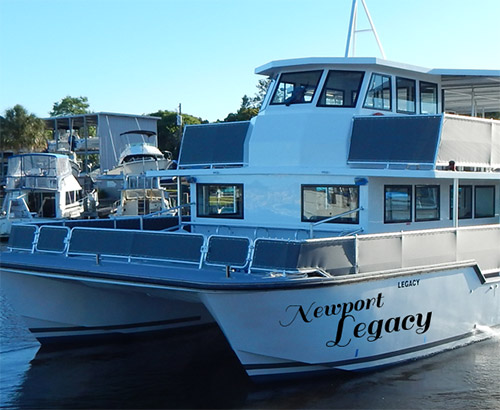 SPECIFICATIONS:
Maximum Guests: Up to 149
Large Main Salon w/ Seating for 60+
Full Bar / Lounge
2 Restrooms
Galley (catering upon request)
Large Bow w/ Stadium Seating
Integrated Sound System
CD player & Digital Device Hook Up
Video Monitors
Dancefloor
Covered Second Deck w/ Seating
Upper level sundeck
Lower Level Exterior Seating
Equipped for Coastal & Ocean Travel
Professional Captain & Crew Onboard
Built in 2016
---
Newport Legacy Rental Request
Please fill out the form below or call (949) 673-1434 and a Davey's Locker representative will be in contact within 24-48 hours regarding your reservation.