Best Time Of Year To Go Whale Watching
Seasons that are the best time to go whale watching
Book Your Trip
Best Time Of Year To Go Whale Watching
Seasons that are the best time to go whale watching
Book Your Trip
Best Time Of Year To Go Whale Watching
Seasons that are the best time to go whale watching
Book Your Trip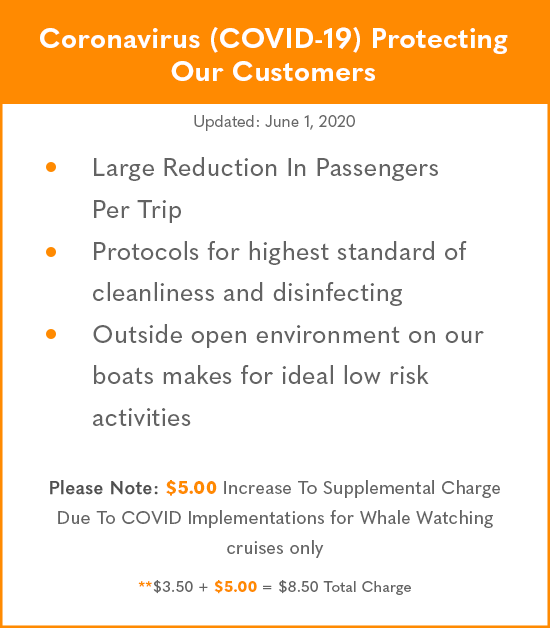 The Best Time for Whale Watching in California
Reserve your trip online or call (949) 673-1434 to schedule
Our company offers whale watching trips throughout the year and often times we are asked when the best time is to see the animals. While most whale watching destinations in the US are seasonal offerings Southern California is one of but a few places where Whales and Dolphins can be seen year round!
One of the best aspects of whale watching in Orange County is that our fair climate and unique geography allows us to see both whales and dolphins on any given day. We are located on a key migratory route, the weather is typically pleasant year round, and our local ecosystem is thriving! The variety of marine life we see here in Southern California is tough to match anywhere else in the world and what you are likely to see is dependent on the time of the year.
Winter Whale Watching (December, January, February):
As schools across the US let out for holiday breaks and seasonal decorations begin to go up we start seeing our first GRAY WHALES of the year. The Gray Whales are heading south towards Mexico from Alaska and we observe this species as they undertake the longest migration of any mammal on planet Earth! Gray Whales only thrive on the west coast of the North American continent so California is one of just a handful of whale watching locations where you can see this unique species. The weather between Los Angeles and San Diego is much more favorable at this time of year than anywhere else in California. By the end of February we start seeing the migration switch over from southbound to northbound as the whales return to Alaska.
This is also an excellent time of year for dolphin watching. Our large pods of COMMON DOLPHIN can be witnessed year round and often steal the show as they frolic in pods averaging 100-200 individuals. Inshore BOTTLENOSE DOLPHIN are frequently witnessed along the route taken by the Gray Whales as both species favor near coastal waters. This is the best time of year to observe the stunning beauty of the PACIFIC WHITE SIDED DOLPHIN which we rarely encounter outside of the winter months.
Fin Whales, Humpback Whales, and Minke Whales are also potential sightings this time of year along with sporadic sightings of Risso's Dolphin and Orca.
Spring Whale Watching (March, April, May):
As the weather begins to warm and daylight increases we observe the GRAY WHALES on the northbound half of their migration. This is a very special time because it is the best time to see a baby whale in our area as the calves born in Mexican waters swim with their mothers back to Alaska. These cow and calf pairs take safe routes closer to shore where they are safe from predators and offer ample opportunities to nurse. Our trained whale watching captains know the best ways to gently follow and observe these precious moments with the utmost safety and respect for the animals.
Spring is the best time of year to look for FIN WHALES. Fin Whales are the second largest animal in the world and come to our waters to feed on abundant fish and krill, typically arriving in waves that last for several days before subsiding. Few other places in the world match the frequency and excitement of the Fin Whale encounters we have in Southern California.
Common Dolphins, Bottlenose Dolphins, are observed regularly and the Pacific White Sided Dolphins are still here in fair numbers through April. Humpback Whales and Minke Whales can also be witnessed periodically.
Summer Whale Watching (June, July, August):
The Summer months are the best months to witness the world's largest animal…the BLUE WHALE! Southern California is the best place in the world to look for a Blue Whale as they seek the nutritious krill that allows them to grow to their epic size. These animals inhabit deeper waters and our search pattern shifts out further into the ocean where we also see our biggest pods of dolphin. Considered one of the crown jewels of whale watching, our summertime trips are the best way for you to witness these massive and rare animals.
The summertime megapods of Common Dolphin can reach sizes of two thousand or more individual dolphin and are easily one of the most impressive sights our local waters have to offer. The dolphins can be seen feeding next to whales that eat fish such as the Humpback Whale, Fin Whale, and Minke Whale this time of year. We might also witness the offshore Bottlenose Dolphin or Risso's Dolphin that are in search of squid, Summer is the best time to search for tropical exotics like the Bryde's Whale, Sei Whale, or even rare local sightings of Pilot Whales.
Fall Whale Watching (September, October, November):
The Labor Day weekend may mark the end of summer but it is still a great time for whale watching. It is our best time to see the local HUMPBACK WHALES as they shift further south when the temperature cools up further north. The Humpback Whale is the most acrobatic of all the whales and Fall is the best time to see the breaching, tail slapping, and lunge feeding commonly associated with this species. There are lots of dolphins in the area at this time including the Bottlenose, Common, and Risso's Dolphin.
Although they are a rare sighting, ORCA (also known as Killer Whales) are usually seen at least once or twice each fall as they hunt for prey. These are very exciting encounters full of adrenaline and typically emerge as some of the best trips of the year when they happen. It is also possible to see an early Gray Whale or two around Thanksgiving before their migration begins in earnest.
Other Animals You Can See:
Sea Lions are seen on the majority of our trips throughout the harbor and on the buoy outside of the harbor. You can see them year round in Newport Beach and our whale watching trips provide one of the best ways to see them. Harbor Seals and Elephant Seals are seen periodically out at sea throughout the year as well. Sea Turtles are encountered most often during the summer months when the water is warm. If conditions are favorable we do see sharks a few times each month and the Spring and Summer are the best time to see sharks on our trips. We see Mako Sharks, Thresher Sharks, Blue Sharks, Leopard Sharks, and occasionally the Great White Shark.
Choose What Works Best For You!
With year round sightings and different species at different times of year no two trips are the same, making our whale watching trips great for first timers and frequent visitors alike. Our captains and crew are experts in the local ecosystem and have abundant experience in searching for wildlife. We offer the best chances of seeing local wildlife all year round at the times that fit your schedule. If you have been whale watching before and are looking to find something special we hope this guide has provided some helpful information on the best time for you to book!