Whale Watching Dana Point $13 Special
Cruises Daily Year Round- View Whales & Dolphin Off Dana Point Area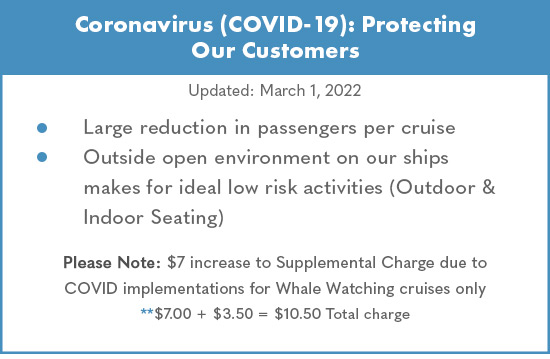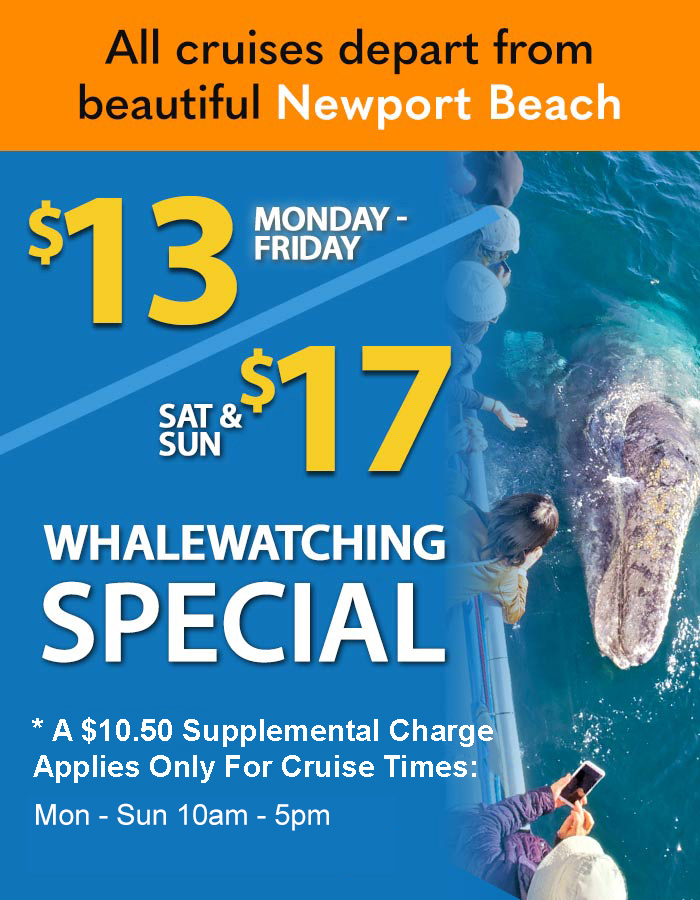 Buy tickets online or call (949) 673-1434 to schedule a cruise.
Dana Point is located about halfway between San Diego and Los Angeles. Along with hosting such events as the Festival of the Whales, Dana Point also is home to the Ocean Institute a non-profit research educational center teaching kids about marine life and marine mammals. As you would expect, Whale Watching Dana Point is a popular activity, and Davey's Locker provides whale watching cruises daily year round from Newport Bay located 30 minutes from downtown Dana Point. >> Check out the Whale Watching Cruise Times & Pricing Info.
Offering Dana Point Whale Watching Visitors Daily Departures
Davey's Locker has provided whale watching cruises for Dana Point area visitors and residents for over 30 years. During the summer and fall months it is not uncommon to see giant blue whales and finback whales just outside the bay. During the winter and spring months the gray migration often has multiple gray whales just outside the bay's entrance. Along with our pricing and schedule for whale watching visitors from Dana Point, Davey's Locker has provided recommended hotels for those staying in Dana Point as well as popular attractions and other activities that whale watchers might find to be a neat addition.
Cruise lengths vary depending on the time of year. For departures please see the chart below. Refreshments and snacks are available on the ship's snack bar. The Ocean Explorer is Davey's Locker's primary whale watching ship, 65 feet in length with both outdoor and indoor seating a upper level observation deck and staff with over 30 years of combined experience in narration of whale watching cruises. The Ocean Explorer makes for a very comfortable and enjoyable whale watching excursion. Davey's Locker with over 30 years of whale watching for Long Beach and Orange County has provided whale watching tours to families and their kids, grand kids and great grand kids making Davey's Locker a whale watching tradition that we are very proud of. Private whale watching charters or boat rentals are also available.
---
Things to do after whale watching:
Crystal Cove State Park
Take a scenic, 12 mile drive down Pacific Coast Highway and you'll find a hidden gem, Crystal Cove State Park. This secluded beach stretches some 3.5 miles and is an official "underwater park" and Marine Conservation Area. Tide pools and coves delight visitors to the beach year-round, though some of the best tide-pooling can be found in the winter when the lower tides provide excellent viewing of intertidal animals. Our non-profit partners, Crystal Cove Alliance, help to maintain and preserve Crystal Cove Historic District, which is a beautiful example of Southern California beach architecture, and still retains the scale and ambiance of a 1930's beach resort. Carved into the park's ridges and canyons are more than 23 miles of back country mountain-biking, horseback-riding and hiking trails. Because of these high bluff trails, hiking here makes for an ideal lookout spot for traveling whales and dolphins. Just make sure to bring your binoculars!
Visit the Wedge
The Wedge Newport Beach is a hotspot for powerful and awesome surf, famous for its giant waves. It's more of a place to admire rather than to engage, but either way, this spot has the biggest swell in Southern California and is a must see if you're visiting Newport Beach.
Balboa Fun Zone
Fun Zone at Balboa Village has been providing affordable entertainment for all ages. With no admission costs, you can stroll the bayside boardwalk and play as you like. Take a long, relaxing ride on the Ferris Wheel, which offers fantastic views of the Newport Harbor and Pacific Ocean. Be a kid again in the Arcade & Game room or take a ride on the bungee jump, giant swing, or the palm tree climber. There are also several shops and restaurants along the Fun Zone boardwalk.
600 East Bay Ave. Balboa, CA 92661
---
Lodging and Attractions
The Ritz-Carlton, Laguna Niguel
1 Ritz Carlton Drive
Dana Point, CA 92629
(949) 240-2000

Laguna Cliffs Marriott Resort & Spa
25135 Park Lantern
Dana Point,CA 92629
(949) 661-5000

The St. Regis Monarch Beach Resort & Spa
1 Monarch Beach Resort
Dana Point, CA 92629
(949) 234-3200

Doubletree Guest Suites Doheny Beach
34402 Pacific Coast Highway
Dana Point, CA 92629
(949) 661-1100
Ocean Institute
24200 Dana Point Harbor Dr.
Dana Point, CA 92629
(949) 496-2274

Zoomars Petting Zoo and Bird Park
31791 Los Rios Street
San Juan Capistrano, CA 92675
(949) 831-6550

The Spa at Laguna Cliffs
25135 Park Lantern
Dana Point, CA 92629

Pacific Marine Mammal Center
20612 Laguna Canyon Road
Laguna Beach, CA 92651
(949) 494-3050
Doheny State Beach
25300 Dana Point Harbor Dr.
Dana Point, CA 92629
(949) 496-6172

Dana Point Marine Reserve
24200 Dana Point Harbor Dr.
Dana Point, CA 92629
Ocean Institute
(949) 496-2274

Salt Creek Beach
33333 S. Pacific Coast Hwy.
Dana Point, CA 92629
(949) 923-2280 or (949) 923-2283
---
Best Times of the Year for Whale Watching in Orange County:
What's the best time of the Year?
There is really no better time of year for whale watching, as whales can be spotted throughout the year in Southern California.
ear-round we can spot Humpback Whales, Finback Whales, Minke Whales and a variety of dolphin. From January through May we actively spot California Gray Whales. Gray Whales make an extensive migration during the winter and spring from the Chukchi and Bering Sea's in Alaska down to three wintering lagoons in Baja Mexico. Around 20,000 Grays are moving up and down the coast during this time of year, which makes it a great time for whale watching. The juveniles are often found playing in the soft sands off the shores of Orange County.
The Blue Whale season starts in early summer. June through September we see one of the largest animals that have ever lived on the planet, feeding on krill. These magnificent creatures weigh in at nearly 400,000lbs and stretch to lengths of close to 100ft long!
What's the best time of day?
A common question we get from eager whale watchers is, "Which tour is best for whale sightings?" or "Which tour has the best chances to see something?" The best way to answer this question is to take into consideration where you are coming from, weather conditions that day, and sunrise/sunset times. The short answer is that there are no better times during the day for whale watching. The mornings are generally calmer on the water, so if you are prone to seasickness, a morning trip would be best. My favorite cruise times for visitors coming whale watching from Orange County would be the noon or 1pm cruise time and the 3:30pm departure time, whales are often located on the earlier trips, meaning your cruise can spend more time viewing the whales and less time trying to locate them!
---
Whale Sightings and other Marine Life
Whales in Orange County:
Gray Whales (Eschrichtiusrobustus)
The gray whale is a baleen whale. It migrates between feeding and breeding grounds yearly and makes one of the longest annual migrations of any mammal, traveling some 5,000 miles each way from its northern feeding grounds in Alaska to its breeding and calving grounds in the warm lagoons of Baja Mexico. Gray whales can reach about 49ft long and weigh up to 72,000lbs.
Humpback Whales (Megapteranovaeangliae)
The humpback whale is extremely maneuverable and the acrobat of the whale world. Humpbacks can measure 40-50ft long (females are usually larger than males) and can weigh up to 80,000lbs. They feed mainly on small shrimp-like crustaceans commonly known as krill, other zooplankton and small schooling fish. Humpback whales are widely distributed over all the oceans from the poles to the topics, but there are distinct seasonal changes in their distribution.
Blue Whales (Balaenopteramusculus)
Blue Whales are one of the largest creatures to ever live on our planet! The average size of a blue whale is 80-90ft, with the largest recorded whale measured 110ft (that's the size of two school buses parked end to end!) Blue whales are found in all oceans, and in the western Pacific Ocean, blue whales range from Gulf of Alaska, which is an area rich in food, all the way to Costa Rica, where it is believed they migrate to bread and have their young. Blue whales are currently listed as endangered animals with only about 2,500 left in the North Pacific population.
Dolphin
Common Dolphin (Delphinus delphis)
There are two species of Common Dolphin, the short-beaked common dolphin and the long-beaked common dolphin (both seen in here whale watching in Laguna Beach). They are found in the North and South Pacific and Indian oceans, and are widely distributed in warmer temperate and tropical waters of all the oceans of the world. Both common dolphin adults range between 5 ft-5.5ft long, and can weigh about 300lbs. They are very fast swimmers, reaching speeds of up to 29 miles per hour, averaging about 100 miles per day, which is one of the reasons these dolphins don't do well in captivity.Dolphins have a unique adaptation called echolocation. They create a series of clicking sounds, made from a specialized organ under the blowhole. These clicks are sent out of the melon and are like an ultrasound machine. They bounce off objects, and the information is sent back to the dolphin to create an image.
Bottlenose Dolphin (TursiopsTruncatus)
The bottlenose dolphin have a short stubby beak- hence the name "bottlenose." The common bottlenose dolphin is the most familiar of the family of whales and dolphins (cetaceans) because of its coastal occurrence around the world and its prevalence in zoos and aquariums. Adults range between 8-12ft and may weigh as much as 1,430lbs.Bottlenose dolphins can reach speeds in excess of 18 miles per hour, and they have an average lifespan in the wild of about 30-40 years. Often seen surfing in the waves at Laguna main beach.
Pacific White Sided Dolphin (Lagenorthynchusobliquidens)
Pacific white-sided dolphin is dark grey or black in coloration. As its name suggests, it has a greyish side patch which extends down the sides to just below the dorsal fin. These dolphin reach a length of 7-8 feet and weigh about 300lbs. Pacific white-sided dolphins are extremely agile, acrobatic and social. Generally traveling in groups of tens or hundreds of individuals, they can be seen in herds of 2,000 or more.
Risso's Dolphin (Grampus griseus)
Risso's dolphin is named after Antoine Risso, whose description formed the basis of the first public description of the animal. They usually weigh between 650-1100lbs and are about 10ft in length. These animals primarily feed on small schooling fish and squid, and when we have lots of bait in the area, these curious dolphin make an appearance.
---
Helpful Hints to Maximize Your Orange County Whale Watching Experience
When should I arrive for my scheduled reservation & where should I park?
Please try to arrive at least 30 minutes before your cruise departure time. If you need help with directions or parking please visit our parking and directions page at https://www.daveyslocker.com/contact-us-directions/
What are some things I should bring onboard a whale watching cruise?
Water
Sun protection, such as sunscreen and a hat
Light jacket, cold mornings and evenings from Fall to Spring
Camera (recommended)
Cash if you want to purchase light snacks or drinks from the onboard kitchen.
Rent or bring binoculars
Checking the weather beforehand can be helpful in figuring out what would be best to wear, as it can get cold out on the water. https://weather.com/weather/tenday/l/Laguna+Beach+CA+USCA0573:1:US
What if I get motion sickness?
With the waters off Laguna Beach protected from Catalina Island to the West and Palos Verde Peninsula to the north, lake like conditions are the norm and we typically don't have many issues with motion sickness. But if you know you are prone to motion sickness a helpful tip would be to take Bonine or Dramamine AT LEAST 1 hour before you board the vessel. What has worked well for some is to take the motion sickness pill the night before your trip. Then when you wake up in the morning, take one more pill, that way you can combat any drowsy affects the motion sickness pill might have on you. These work great, and we also sell them in our office if you do not have time to pick them up on your way here.
Another option is wearing Sea-Bands which are a knitted elasticated wrist band, which works by applying pressure on an acupressure point on each wrist by means of a plastic stud. Because the bands do not use drugs, they do not cause any of the side effects associated with anti-nausea drugs and can be worn on each wrist whenever you feel nauseous. They are suitable for adults and children. Those who prefer an herbal remedy may look into eating or chewing on ginger or ginger flavored candy, which can help relieve nausea.
---
Educational Resources
The American Cetacean Society - Orange County Chapter http://www.acsorangecounty.org/
The American Cetacean Society has been dedicated to protecting whales since 1967. ACS, a nonprofit organization, protects cetaceans (whales, dolphins, and porpoises) and their habitats through public education, research grants and conservation activities.
They have free lectures, courses to become a certified ACS-OC Naturalist, and have volunteer opportunities on local whale watching boats in Newport Beach.
Pacific Marine Mammal Center https://www.pacificmmc.org/. Located in Laguna Beach, you can visit the Pacific Marine Mammal Center and learn more about Sea Lions and Harbor Seals up close.
NOAA Guide to Whales for Kids http://www.nmfs.noaa.gov/pr/education/whales.htm
A comprehensive guide to marine mammal facts & information http://www.whalefacts.org/species-list/
Visit http://www.newportwhales.com/school.html where you can find pre and post trip activity packets along with whale and dolphin information and additional fun and educational activities listed under "Curriculum Packets."
---
Plan Your Whale-Watching Cruise
DEPARTURE TIMES
| Dates | Cruise 1 | Cruise 2 | Cruise 3 | Cruise 4 |
| --- | --- | --- | --- | --- |
| Nov - Feb (Mon - Fri) | 10:00 am | 1:00 pm | n/a | n/a |
| Nov - Feb (Sat & Sun) | 9:30 am | 12:00 pm | 2:30 pm | n/a |
| Mar - Oct (Daily) | 10:00 am | 1:00 pm | 3:30 pm | 6:00 pm* |
PRICES
| Age | Weekdays | Weekends & Holidays |
| --- | --- | --- |
| Adults (Ages 13 - 59) | $34.00 | $38.00 |
| Juniors (Ages 3 - 12) | $28.00 | $32.00 |
| Seniors (60+) | $28.00 | $32.00 |
| Toddlers (Ages 0 - 2) | Free | Free |
Fees Apply
Prices subject to change without notice. Fuel surcharge may apply - click here for more information. Outside alcohol, ice chests, coolers, or glass containers are strictly prohibited. Vessel may change depending on availability.
---
Book Your Trip Online
SPECIAL PRICE DOES NOT APPLY TO LUXURY CRUISES OR ULTIMATE WHALE WATCH
Fees Apply
---
For Dana Point Visitor Whale Watching Coupons, please feel free to sign up for our monthly newsletter & follow us on Facebook. You'll be kept up to date on all things whale watching Los Angeles, and of course holiday specials and promotions.
---
Link to larger map